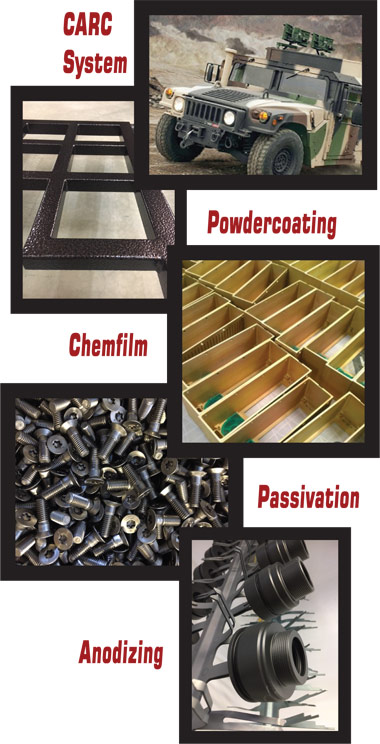 Our business was established in 1992 and has been adding capabilities and prime customers over the past 29 years. We are known in the industry for high quality and quick turns. With the two facilities it enables us to find the best facility to support our customers and their products at the highest levels. Having so many processes in house allows our customers to save time and money with minimizing the outsourcing to multiple companies.
We currently hold NADCAP, AS9100, ISO, and ITAR certifications.
MIL-SPEC LIQUID COATINGS
Sizes up to 20'x20'x 60'. We have multiple booths in both facilities.
MIL-DTL-537072 CARC
MIL-PRF-32550 (ZINC RICH PRIMER)
MIL-DTL-53022 (EPOXY PRIMER)
MIL-PRF-23377 (PRIMER)
MIL-PRF-85582 (PRIMER / ALUMINUM SURFACES ONLY)
MIL-PRF-22750 (TOPCOAT)
MIL-DTL-53039 (TOPCOAT)
MIL-DTL-64159 (TOPCOAT)
MIL-C-8514 (METAL PRETREATMENT WASH PRIMER)
MIL-PRF-85285 (TOPCOAT)
MIL-PRF-23236 (PRIMER)
MIL-PRF-24635 (TOPCOAT)
MIL-PRF-32440 (POLYUREA COATING)
CHEMICAL PLATING
PASSIVATION (Sodium Dichromate Tank Size 36x14x42) (Nitric Tank Size 36x36x42)
AMS-2700
ASTM A967
ASTM a380
CHROMATE CONVERSION COATING
MIL-DTL-5541 (Type II tank size 34x23x33) (Type I tank size 30x24x42)
Types I and 2 Classes 1A and 3
ANODIZE
MIL-A-8625
Type 2 Class 1 (clear) (tank size34x23x33)
Type 2 Class 2 (color Black) (tank size 34x23x33)
CHEMICAL CLEANING
MEDIA BLASTING
POWDER COATING
MIL-PRF-24712B SIZES UP TO 12'X12'X25' and 8'x8'x30'
PART MARKING 
Silk-screening
Part marking
MIL-STD-130
A-A-56032D
A-A-208
Laser Marking
ADDITONAL SERVICES
Custom Masking
Light Assembly
Finish Packaging
Pick Up and Delivery (local)